Adjustable Loading Bay Gate
Create a safe working area on scaffolding loading platforms with the Hacketts Adjustable Scaffolding Loading Bay Gate - conform to Health & Safety on your building site.
The New Lightweight Hacketts Adjustable Loading Bay Gate is an essential element in a scaffolding structure providing easy access for materials while preserving the safety of your trade's people. The Hacketts Adjustable Up and Over Loading Bay Gate is manufactured to conform to all Health & Safety requirements and is designed to satisfy the needs of BS EN12811-1.
Features:
Central horizontal rail and welded mesh panels at front

Counterbalanced – easily operated by one person

Full operator protection when in use

Fully reversible arms incorporating rotational swivel clamps

Provision for double guard rails at rear providing easy reach
Specification:
Manufactured in High Quality Steel

Fabricated to any width to suit your needs

Powder Coated in Red as standard, your corporate colours available.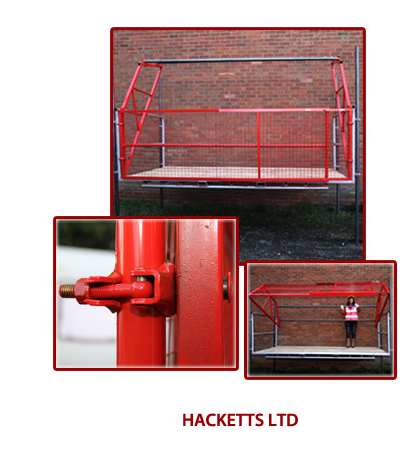 An essential element of any scaffolding structure; the Hacketts Scaffolding Adjustable Loading Bay Gate enables easy loading of building materials on to the scaffold while preventing workers from accessing the loading area while the perimeter barriers are removed. The Hacketts Adjustable Loading Bay Gate is designed to a modular construction enabling it to be assembled at ground level and raised to a working height by a forklift.
Contact Hacketts Ltd of Dudley for Scaffold Adjustable Loading Bay Gates.