StairSafe Handrail Kits
The Hacketts StairSafe Handrail Kits are easy to install, store and remove providing a quick and sturdy protection of stairwells during building construction.
Designed and constructed to provide easy stairwell protection in most design layouts, the Hacketts StairSafe Handrail Kit is easily adjusted to any staircase angle and is telescopic to cope with most landing and staircase runs.
Features:
Constructed from high grade steel the Hacketts Stairsafe Handrail Kits provide a strong protection barrier.
As stairs and balustrades are typically installed when construction has finished in order to avoid damage, the Hacketts StairSafe Temporary Handrail will ensure Health & Safety Compliance during construction.
Product is supplied as a kit consisting of one short and two long rails and can be used in conjunction with Hacketts Stairwell Posts.
Optional Clamp Mechanism to fit Newel Post
Optional Spring Loaded Post & Ladder Access Gate
Specification:
Long Rail – 2500mm adjustable to 3500mm – 15KG
Short Rail - 750mm adjustable to 1200mm – 8KG
Standard Spring Loaded Gate - 15mm Box Section
Heavy Duty Spring Loaded Gate - 25mm Box Section
Your Corporate Colours Available
S.I.G Approved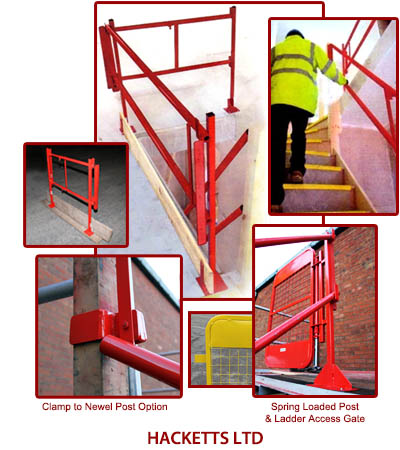 Hacketts Ltd of Dudley - Quality Construction Products - Providing a Professional Fabrication Service - Call 01384 240325.