Tie-in Couplers
The Scaffold Hook Coupler is used to tie the scaffolding to the building with the use of an eye bolt. The Hacketts Tie-in Coupler is easily applied providing a secure fixing.
The External Scaffold Anchor Hook Fitting is extensively used for lashing and securing applications.
Specification:
Manufactured from standard scaffolding 1/2 coupler 48.3mm dia. with 16mm Solid Steel Bar to form hook
Fully tested to the latest specification by Lloyd's British Testing
For over 30 years Hacketts Ltd of Dudley have Fabricated Safety Products for the Construction and Scaffold Industry.
As one of the leading manufacturers in the UK, Hacketts have a comprehensive range of Quality Construction Products available for prompt delivery.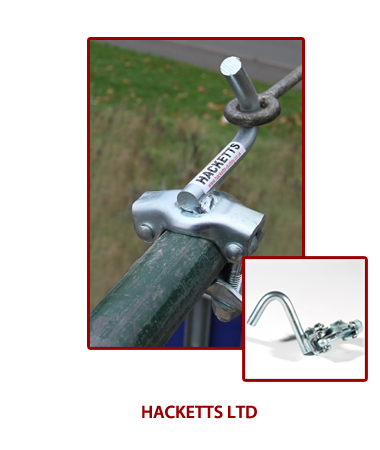 As a quality steel fabricator bespoke items can also be designed and manufactured to your specific requirements – call Hacketts Ltd of Dudley on 01384 240325.