Ladder Access Trap Door
Prevent falls by installing the Hacketts Scaffold Ladder Access Trap Door within your scaffold structure.
Manufactured in high quality steel the Hacketts Scaffold Ladder Access Hatch Trap Door provides an easy to install trap door that helps to prevent falls through the ladder access – helping you to remain Health & Safety Compliant.
The Hacketts Ladder Access Safety Hatch Trap Door is secured to the boards. It has an aluminium door to give strength and light weight operation. Stainless Steel hinges are fitted to allow outside storage without corrosion damage.
Options:
Manufactured in the UK from High Quality Steel
Frame with Aluminium Lid.
Optional Aluminium Door or Mesh.
Stainless Steel Hinges to avoid corrosion.
Full Aluminium Ladder Access Trap Tested to SWL - 350kgs.
Spring Loaded Post & Ladder Access Gate.
Powder Coated in Red as standard, your corporate colours available.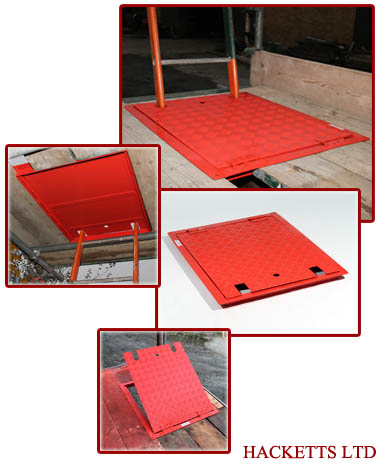 As one of the leading manufacturers in the UK, Hacketts have a comprehensive range of Quality Scaffolding Accessories and Construction Products available for prompt delivery. Bespoke items can also be designed and manufactured to your specific requirements – call Hacketts Ltd of Dudley on 01384 240325.